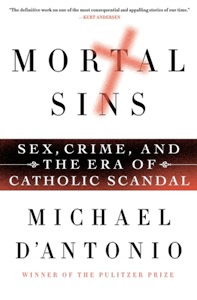 by Pulitzer Prize winning author Michael D'Antonio, was recently released.
Available: Amazon.com: Books
Reviewed by AW Richard Sipe
It is the most comprehensive and complete history of the clergy abuse crisis and survivor movement ever written.
"The main thing people should know about the sexual abuse crisis in the Catholic Church is that it is a confrontation between those who would tell radical truth, in all its messy, disturbing, and seemingly contradictory forms, and an institution devoted to secrecy and hierarchy.
Mortal Sins covers the movement that sprang up around the problem of clerical abuse and follows it from its beginnings in Minnesota and Louisiana to Pope Benedict's resignation. Along the way it reveals the transformation of its leaders --especially lawyer Jeff Anderson of St. Paul--and the gradual shift inside the church."
The narrative exposes the dynamics of the greatest crisis the Catholic Church in America has ever faced. The story weaves together the metamorphosis of a cast of characters who took on the corruption of one of the most powerful institutions in the world.
That includes Tom Doyle, Jason Berry, Richard Sipe, Barbara Blain, John Manly, Pat Wall, and others.