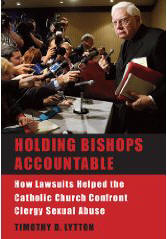 Just when I think I have read the final word on the clergy child abuse crisis an important book pops up that focuses on a new facet of the whole ordeal. What a great job law professor Tim Lytton has done to explain part—an important part—of the response to the crisis that confuses many lay folk (and some lawyers); the persuasive value of the tort system.
In 1988 I reviewed 1,800 letters and reports from men and women who alleged that they had been sexually abused by a Catholic priest, bishop, or member of a Catholic religious order. Not one—not a single person—was asking for money. What they were seeking was recognition of their suffering, validation of the facts in their case, and belief in their word against a powerful person and structure that denied, defied, and at times humiliated and abused them further. An apology would have been comforting and healing. Their pleas were not heard.
Timothy Lytton's title says it all—how lawsuits helped the Catholic Church. What some people think is only a money-driven effort is rightly exposed in the sex abuse crisis as fundamentally a reform-driven tool. I was a consultant on a number of cases where the victim asked for modest sums to finish their education only to be denied. When the case was litigated the plaintiff was awarded several millions of dollars. The victim then was in a position to demand conditions to assist other victims.
Lawyers of experience know the value of the tort system in the clergy abuse crisis. Jeff Anderson, one of the leaders in attacking the problem 25 years ago, says trenchantly, "Never before has the American tort system played such an influential role in educating the public and encouraging massive change in the way children are protected."
The appeal to lawyers and the law for protection was the last, not the first, resort for most victims. Luckily some of the abused teamed up with committed lawyers to head the drive toward responsible recognition and an honest response from church authority. The fight is still not easy. The resistance from bishops and cardinals has proved truly Machiavellian—still. That is one of the reasons anyone who wants to understand Catholic clergy sex abuse needs to read this book.
There is no question that the victims' movements, their cases brought to civil (and criminal) litigation, and media accounts blasted into public attention were the driving forces that has resulted in whatever positive movement Catholic authorities have taken.
All church action has been reactive; this includes Pope Benedict's remarks during his six day U.S. tour in April 2008. There is still no clear, moral, and independent leadership from within the Catholic Church moving it toward full transparency and accountability. But the tort system has held institutional 'feet to the fire' by exposing pleadings, depositions, and documents (and grand jury reports) that extricated a refined "confession" of an institution in moral meltdown.
In 1992 Father Stephen Rossetti (now head of St. Luke Institute) told a group of Fr. James Porter's victims "The church will not change until it is faced with bankruptcy." That was in response to their question, "what will it take to make the church change."
Hugh payments have caught the church's attention, but the bishops continue to resist basic reforms even under the pressure of threatened bankruptcy.
Money is an issue; for the church that is a renewal resource. But the pressure of the tort system that will continue to hold bishops accountable for their behavior, that of priests, and employees holds continued promise of eventual inevitable reform of a system co opted by its dedication to image and secrecy.
Lytton has done all of us who care about the protection of children a big service by explaining the process of tort litigation and its power to influence institutional performance and policy.
The Web Page for the book is: www.albanylaw.edu/lytton