Atila S. Guimarães
Due to a quite busy schedule, I have collected a pile of books and articles to read when spare time appears. In that mound was a long article published two years ago by the well-informed Rome bulletin Adista reporting on the pedophilia crisis in the Italian clergy. Recently I found time to read it. It was, in my opinion, very revealing of the duplicity of the Italian Episcopate, the Vatican included. They pretend that pedophilia does not exist around them: it is an American problem...
It seems useful to portray a sampling of the Italian reality for the TIA American audience. I am basing myself on the information presented in a report by Emilio Carnevali entitled "Pedophile Priests in Italy: The Hierarchy Minimizes the Problem, but It Exists - Data from the Last Years" (Adista, May 13, 2006, pp. 11-14).
We are all aware of the extreme complacency of the Vatican in dealing with the pedophilia crisis in the U.S. It has always covered for the priests and blamed the critics, as if they were trying to destroy the Church. I mention just two facts to refresh my reader's memory.
The first was the Vatican veto of the first draft of the Dallas document (2000) drawn up by the American Bishops, which was considered excessively strong. Far from being so, it was quite weak, but still much better than the final imposed version that was approved in Washington. This veto and its consequences were duly analyzed in my book on pedophilia. (1)
1. A.S. Guimarães, Vatican II, Homosexuality & Pedophilia, Los Angeles: TIA, 2004, pp-56-78
The second was the official visit of Card. Tarcisio Bertone to the U.S in August 2007. During his stay, the Vatican Secretary of State made violent, demagogic declarations against those who had attacked the clergy and the cover-up of the Bishops.
These two important facts are characteristic of the Vatican approach to ecclesiastical pedophilia.
We know that on his U.S. visit in April 2008, Benedict XVI expressed his sorrow to the victims of clergy abuse and made some vague promises regarding punishing the guilty. But, so far, we still have not seen any concrete follow-up to those lamentations.
At any rate, the report on priestly pedophile abuse in Italy and the silence of both the Italian Episcopate and the Vatican about it may help to fill in the missing spaces in the picture.
An Episcopate apparently immune to pedophilia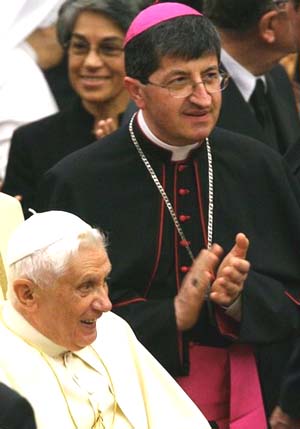 Bishop Betori: In Italy pedophilia 'is so small, it does not deserve any special attention...'
The indifferent attitude of the Italian Episcopate is aptly depicted by Carnevali:
"One generally speaks of the pedophilia scandal in reference to the American example, which gives the impression that the Catholic Church in Italy is absolutely immune to this type of problem, according to the media and the Bishops themselves.
"Indeed, on March 21, 2002, the secretary of the Italian Bishops Conference (CEI), Bishop Giuseppe Betori, affirmed that the phenomenon of pedophilia in the Italian clergy 'is so small that it does not deserve any special attention.' This is why, the Bishop continued, 'the permanent council of the Bishops' Conference had never spoken about pedophilia. It has no list of names on this topic. We aren't looking at a single case and don't [even] have a control process.'"
Notwithstanding, there is a long list of priests condemned by the Italian civil courts, and other clergy members under scrutiny because of their proved or alleged pedophilia. Carnevali presents this list, which starts in 2000, as "a contribution to a more realistic examination of the situation." He apologizes for some imprecision in the data due to the "almost total lack of cooperation of the espicopates in offering any information."
A list of pedophiles priests in Italy
- 2000 -

January 10 - Fr. Giorgio Mazzoccatto was sentenced to 6 years and 6 months in prison for sexual violence against minors. The crime occurred in the mid-1990s when Fr. Mazzoccatto was the pastor of Arpinova, close to Foggia. He was arrested in 1998 soon after he became pastor of Casteluccio dei Sauri Parish, also in the province of Foggia, where Fr. Mazzoccatto, still a priest after serving his prison term, continues to live.
January 17 - Another priest, age 62, living in the province of Ferrara, was sentenced to one year and 9 months in prison. The priest, whose name was not disclosed even by the civil court, was found guilty of sexually molesting two children, age 9, who attended Catechism classes.
The indifferent attitude of the Italian Episcopate is clearly depicted by Carnevali: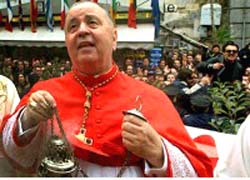 Card. Giordano presided over a welcome party for a pedophile priest after his prison release
January 23 - Fr. Giuseppe Rassello, 49, returned as a parish priest to Santa Maria della Sanitá Church in Naples. He was sentenced in 1991 to serve 3 years and 3 months in prison after being found guilty of sexual abuse against a 14-year-old adolescent. The sentence was confirmed in 1996, after an appeal. The priest was received back at his old parish in a welcoming ceremony presided over by Cardinal Michele Giordano; also participating were Bishop Vincenzo Pelvi and the victim's prosecutor Enrico Tuccillo, who had become a deacon. Tuccillo publicly apologized for "having calumniated Fr. Rassello," and asked the Bishop to name the released priest the defender of the youth and the disabled in Naples.
February 1 - Fr. Marco Gamba, pastor of San Michele Church in the province of Turin, was found guilty of sexual abuses of pre-pubescent altar boys and was sentenced to a 4-½ year prison term. Police investigation also revealed the priest possessed around 4,000 pictures of pornographic pedophile pictures downloaded from the Internet, along with photos of boys, age 11 and 12, who were members of the parish.
May 20 - Fr. Giorgio Govoni, 59, pastor of Staggia di San Prospero Church in the province of Modena, was accused of being a member of a group of pedophiles who engaged in sexually violent and harmful acts with minors, including participation in satanic rites in the Massa Finalese Cemetery. After a legal investigation brought to light the testimony of around 300 witnesses and 5,000 pages of reports in 57 sessions, the court issued 14 sentences condemning the criminals to penalties of 2 to 19 years in prison. The public promoters had asked for a 14-year sentence for Fr. Govoni, but the priest's death stopped the proceedings. Among the defenders of Fr. Giorgio Govini was Bishop Benito Cocchi of Modena.
November - A priest from Milan (name unrevealed) was found guilty of sexual violence against children in his parish community and was condemned to 4 years and 2 months in prison. During the police investigation, it came out that the children had been threatened and induced to silence by a member of the community who knew that the same priest had abused a 7-year-old girl in the early 1970s.
- 2001 -

January 29 - Fr. Pino Carpi was condemned by the court of Chiavari to pay $24,000 for molesting a 14-year-old girl when he was pastor of Santa Margherita Ligure Church. He did not serve jail time because of a legal mistake, even though he had been found guilty. After that, he was appointed pastor of Santa Maria di Nazareth Church in Genoa.
June 26 - Fr. Renato Mariani, pastor of San Giuliano Church in Milan, was found guilty of sexual violence against minors and condemned to 4 years in prison. On his release, he resumed pastoral duties at Garbagnate Church in Milan.
- 2002-

September 14 - Fr. Gaudencio Hidalgo, who was parish priest at San Castrese Church in Naples in 1999 and 2000, was arrested in Mexico. He abused several children, "some of them in orgies" (Adista, February 15, 2003, pp. 10-11). After an Italian judge gave him a prison sentence, he fled the country to Mexico, his homeland. It was Interpol that extradited him so that he could pay the debt he owed to Italian justice.
December 30 - A pastor of the Milan province (name unrevealed), age 37, was arrested for the crime of disseminating pornographic pedophile material.
- 2003-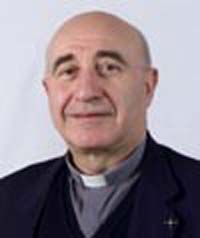 Archbishop Cocchi covered for Fr. Govoni's charges of pedophilia and satanism
May 6 - Fr. D.B. (name concealed), 56, pastor of a church in Genoa, was arrested along with four other pedophiles who lured boys age 11 to 17 to commit sexual acts, offering them expensive gifts and trips abroad. The police reports: "In a little more than 6 months, we have observed dozens and dozens of such incidents. The group preyed mainly on boys of poor families. They would pay the boys from $45 to $150 for their sexual favors. Some of them became accustomed to prostitution; others just diverted themselves with the priest and his accomplices. Often it was the priest who paid for the expenses of luring the boys."
May 27 - A monk (no name disclosed) belonging to a religious institute of Milan was found guilty of sexual molestation and harm to five primary school children. He was condemned to 4 years and 8 months in prison.
July 25 - Fr. Bruno Tancredi, 59, a pastor of Monticelli Church in the province of Terrano, was found guilty of sexual violence and harm to two minors, ages 14 and 16, one of them handicapped. He was condemned to 6 years in prison. He remains a priest but has not been assigned new pastoral duties.
September 17 - Fr. Paolo Turturro was accused of sexual abuse against two 10-year-old boys. He was pastor of Santa Lucia Church in Palermo, Sicily. His case was still in process when the Adista report was published.
October 1 - Fr. Luciano Micchelotti was condemned (no penalty disclosed) for having pornographic pedophile material in his possession. The priest was pastor of Vicoforte Church in Cuneo province.
November - A pastor of Oristano Church (name concealed) was arrested in Sardinia on an accusation of pedophilia. He allegedly abused a minor girl in his parish.
- 2004 -

January - A priest (name concealed) of Romiti di Forli parish was condemned to 2 years of prison after he confessed he was guilty of pedophilia.
February 2 - Fr. Roberto Volaterra, pastor of Castagnole Piemonti Church in the province of Turin, was given a 1 year and 8 month prison term and sentenced to pay $71,000 for sexual violence against a 13-year-old girl. In an effort to prevent his arrest, parishioners defended the priest with physical force. However, the defendant pleaded guilty, acknowledging the truth of the accusations. On his release, Volaterra was appointed chaplain of St. Andrea in Savigliano Church in Cuneo province.
February 25 - Fr. Paolo Pellegrini, 52, pastor of San Gioacchino di Colleferro Church in the province of Rome, was arrested for sexual violence against a minor. The police investigation uncovered immoral films and photos compromising the priest. Six years earlier, he had been accused of being naked in front of a young woman. On June 11, Fr. Pellegrini was sentenced to 6 years in prison and ordered to pay $95,000 for both sexual violence and instigating a minor to use drugs.
March 3 - Fr. Giancarlo Locatelli, 44, was placed under police scrutiny for possessing a collection of pornographic pedophile material. The priest is secretary of the San Nichola Institute of Bari and works in San Nichola parish.
April 20 - Fr. Pietro Sabatini was condemned to pay $7,250 for purchasing pornographic pedophile material through the Internet. Fr. Sabatini is the Rector of the Diocesan Seminary of Lanusei in the province of Nuoro.
July 1 - Fr. Felice Cini was found guilty of sexually abusing several boys in the small parish of Arcille, in Campagnatico, province of Grossetto, and sentenced to 2 years and 6 months in prison.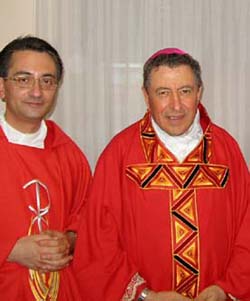 Bishop Ferraro took no measures against the priest and attempted to bribe the victim
July 7 - Fr. Bruno Puelo was found guilty of sexual abuses against seven boys in the Agrigento seminary school, and was given a 2 year and 7 month prison term. One of the victims, Marco Marchese, affirmed that the sexual violence against him began at age 12; after four years of constant sexual exploitation, he spoke about it to Fr. Silvano Castronovo and Fr. Gaetano Montana, respectively vice-rector and rector of the school. Both advised him to calm down and say nothing about the abuse. Then he went to the Bishop of Agrigento, Carmelo Ferraro, who also took no measure. Meanwhile Fr. Puelo continued to abuse other boys. After the victim got a lawyer, the Diocese offered him $36,000 to settle out of court. He refused and made a lawsuit against the priest, who was finally condemned by the civil court.
July 14 - Fr. Domenico Marcanti, 48, was found guilty of pedophilia and sentenced to 3 years in prison. He held a post at a boys' school, the Don Orione Institute of Alessandria.
October 15 - Fr. Gorgio Barbacini was sentenced to 3-½ years in prison for sexually abusing a minor under his custody. The facts came to light in 2000 when Fr. Barbacini was head of the "Migrants" program of Savonna, a Diocesan-sponsored program to help youth. After serving his time in prison, he was transferred to another diocese. There was never a church process to examine his suitability.
October - Fr. Roberto Mornat, a priest in Gavirate in the province of Varese, was found guilty of acts of pedophilia with 12 boys and sentenced to 3 years and 4 months in prison, as well as to pay $442,000 to the victims. The sentence was reduced because of the defendant's alleged partial mental illness.
- 2005 -

May 20 - Fr. Mauro Stefanoni, 37, was arrested for sexual violence against a 14-year-old retarded boy and for possessing pornographic pedophile material. The process was ongoing when the Adista report was released.
June/July - Fr. Renato Giaccardi, 42, a priest in Monregale, national vicar of various institutions of the Imperia and Albenga Dioceses in the province of Cuneo, was arrested and accused of leading minors into prostitution and exploiting them. Around 30 minors between the ages of 13 and 17 were allegedly involved in the ring. The priest compensated the boys for their sexual favors with movie tickets, ice creams and sweets. The reward for presenting a new friend to the priest was $15. His case was still being heard when the Adista report was published.
July 11 - Fr. Pierangelo Bertagna, 44, pastor at Farneta Abbey in Arezzo province, was arrested and confessed his guilt in committing sexual violence against boys (no number disclosed) in his parish.
November 15 - A lawsuit was filed against the Archdiocese of Naples by the attorney of a youth who was 14-years-old when the alleged pedophile acts occurred. The Archdiocese is accused of being responsible for the sexual violence of a priest (no name disclosed) of the Spanish Quarter who was brought to court in 2002. During the process the defendant was declared mentally incompetent of understanding what he had done. The victim's attorney accused the Archdiocese of being an accomplice to the crime since it could have been prevented had the Archdiocese properly evaluate the mental state of the priest.
- 2006 -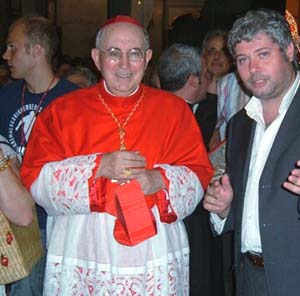 Card. Agostino Vallini: accusations of priestly pedophilia are "just talk"
April 5 - Fr. Marco Agostini, 60, was arrested and 17 persons filed a lawsuit against him. He was accused of sexual abuse and harm committed against 10 minors of the asylum he administrated. The abuses were allegedly carried out since 1993, when the priest of the Congregation of the Oblates of St. Francis of Sales was working at Immaculate Mary Parish in Torvajanica, near Rome, as director of the Raggazi Nuovi [Young Boys] center. In 1998, after the first accusations surfaced, he was transferred to Pomezia, where he became pastor of San Benedetto Church. Finally, in 2002, he was sent to Assisi to direct the Congregation's guest house. The court investigation was based on accusations made in 2004 by a youth in Torvajanica, followed by some 20 allegations of others youth. According to the witnesses, the victims went to talk to then-Bishop of Albano, Agostino Vallini (later made a Cardinal by Benedict XVI), but he declared that the accusations were "just talk." The parents and teachers of the victims requested that the Diocese of Ferrara, to which the priest belonged, be cited as "civilly responsible" by the court, but the judges denied the request.
The case of Fr. Marco Agostini brought to light the involvement of two other priests in pedophile crimes - Fr. Ennio di Giampasquale, ex-parish priest of San Benedetto in Pomezia and Fr. Germano Agostini, pastor of San Michele Arcangelo Church, also in Pomezia. Both priests were under house arrest when the Adista report was published.
May 3 - Fr. Donato Bono, 44, pastor of Sternata Church in the province of Lecce, was under house arrest for having been found practicing obscene acts with a minor in his automobile. He used his influence to pressure the parents and the victim to attenuate the charges against him. The police investigation, however, disclosed that around 12 other boys were also receiving the "favors" of the priest.
Conclusion
When we observe the facts as reported by Carnevali, we see that his main sources were the civil courts. He confirmed that the Dioceses refused to provide almost any information for his report. We realize that at least the civil courts in Italy are taking some action against the pedophile clergy, a very healthy step toward protecting society and the Church.
At the end of this exposé, we should take into account that this is just the result of the research of a single journalist. How many other cases were there to which he had no access? How many others have there been after he published his report on May 13, 2006?
How is it possible that the Italian Bishops are unaware of this putrid tide of pedophilia in their clergy? Is it possible that the Vatican also has no knowledge of it? I certainly do not believe this to be true. In my opinion, they all know and are covering up, as the American Bishops did.
The only difference between the policies of the Episcopates of the U.S. and Italy seems to be that the latter, including the Vatican, has much more influence in pressuring the courts and the police to remain silent and keep things comfortable for the Bishops.
If this supposition is true, we are facing a moral crisis in the Italian clergy as extensive as that in the American clergy. The difference seems to be that the cover-up of the Bishops is more skilled and effective there than here.
I think these facts should be circulated to open the eyes and ears of so many blind and deaf conservatives (and also traditionalists) who do not want to see or hear anything that disturbs their "feel-good" spiritual lives.